Rubislaw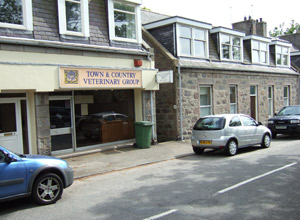 5 Rubislaw - Park Road - Aberdeen - AB15 8BX
Phone: 01224 311555 - Fax: 01224 322047
The surgery at Rubislaw Park Road is where the Town & Country Veterinary Group started in 1987. Originally this branch carried out all its surgery, xrays etc. on site, but eventually outgrew the space available and now concentrates on consulting three times daily.

Our practice ambulance is available to transport your pet from Rubislaw to Kingswells for surgery, if required.

Veterinary surgeon Sarah Chesterman is in charge at Rubislaw, assisted by three part-time receptionists. The reception area also stocks a variety of pet foods and products. If you don't see it on our shelves we can usually order it in for you the following day. Meet the team.
Opening Hours:
Consulting Hours:
Mon - Fri
8.30 - 18.00
Mon - Fri
9.00 - 10.00
Sat
8.45 - 15.00
Mon - Fri
14.00 - 15.30, 16.30 - 18.00
Sat
13.30 - 15.00

Please phone for appointments